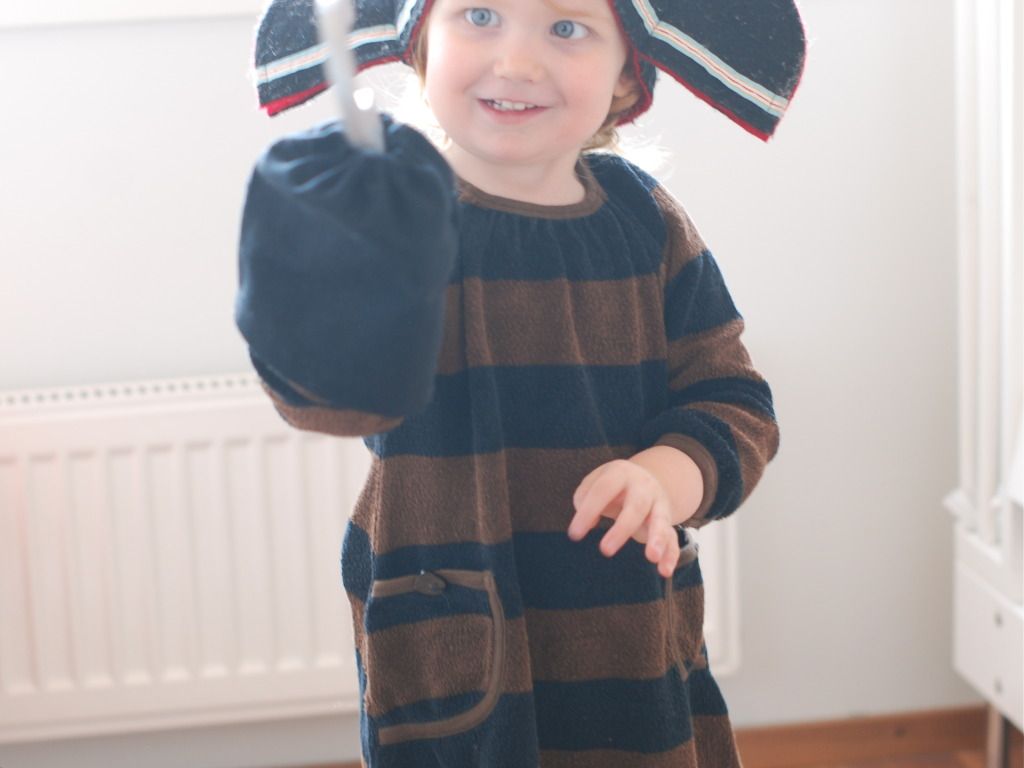 Så här tillverkade vi en egen piratkrok:
Rita en krok i stil med den ovan på en bit faner eller stadig kartong. Kom ihåg att spetsen ska vara barnvänlig och trubbig. Klipp eller såga ut, och slipa kanterna ifall du använder trä. Vår krok mäter 19,5 x 9,5 cm. (Tack snälla morfar!)
Måla kroken. Vi använde silverfärgad akrylfärg. Låt torka.
Sy en manschett i svart tyg - som en liten kjol med dragsko i midjan. Trä över kroken. Klart för lek.
Here's a little tutorial on how to make your own toy pirate's hook:
Draw the outline of a hook on a piece of veneer or strong cardboard. Make sure the point of the hook is safe and rounded. Cut out, and sand the edges if you're using wood. Our hook measures about 19.5 x 9.5 cm or 8 x 3 inches.
Paint the hook. We used silver colored acrylic paint. Let dry.
Sew a cuff using black fabric - like a little drawstring skirt. Pull the cuff over the hook and you're set to play.
* * * * * * *
I signed up for Kids Clothes Week over at Elsie Marley. The idea is that you commit to sewing for your kids at least one hour each day for seven days. I have so many ideas for cute summer clothes and I'm hoping this challenge will give me the motivation to actually get something done.